Story
Data Driven Farming: Week 3 Data Preparation
Outline:
Do Data Science on This Excellent Content For Week 3 Data Preparation:

CropWatch
Precision Agriculture

UNL has excellent content because the SMEs for agriculture and journalism/communications work together!
Decide what content goes into MindTouch (Wiki) and what goes into a Spreadsheet (Excel).
Then Index of MindTouch and Spreadsheet Tabs go into Spotfire Dashboard.
Then decide what can be Modeled for Week 4, Evaluated for Week 5, and Deployed for Week 6. Then you have your project for Week 7!
Video:
Understanding and Assessing Climate Change: Implications for Nebraska
Speaker and Moderator: Donald Wilhite, Emeritus Director and Professor, National Drought Mitigation Center With panelists Robert Oglesby, Deborah Bathke, and Clinton Rowe, University of Nebraska–Lincoln Professors and authors of Nebraska report
Lecture from September 25, 2014 held at the Nebraska Innovation Campus Conference Center
Report:
Climate Change Implications for Nebraska
Source: Link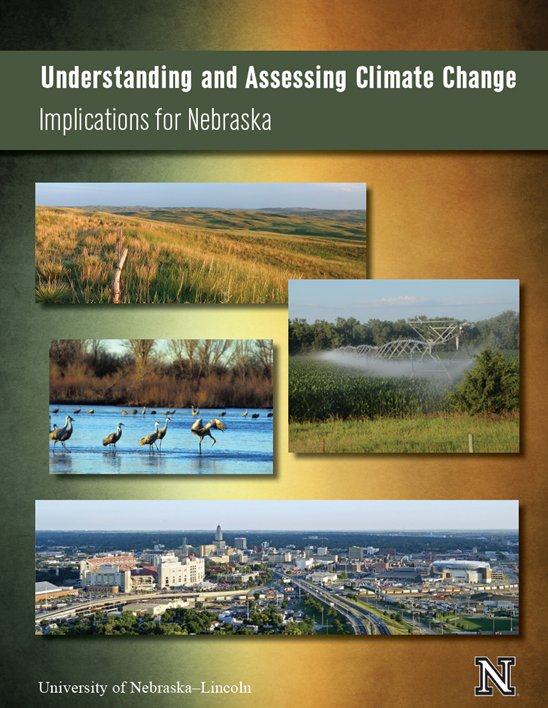 Globally, we face significant economic, social, and environmental risks as we confront the challenges associated with climate change. The magnitude and rapidity of the projected changes in climate are unprecedented, and their implications for the health of our planet and the legacy we will leave to our children, our grandchildren, and future generations are of vital concern. We need to develop strategies now to adapt to the changes, and this process must begin at the local level.
Documents
Understanding and Assessing Climate Change: Implications for Nebraska documents many of the key challenges that Nebraska will face as a result of climate change. Commentaries from experts on Nebraska's water resources, energy supply and use, agriculture, forests, health, ecosystems, urban systems and rural communities, and infrastructure and vulnerabilities raise serious concerns about the impacts of projected changes in climate, but they also provide a starting point for discussions about the actions that we can take to overcome these challenges.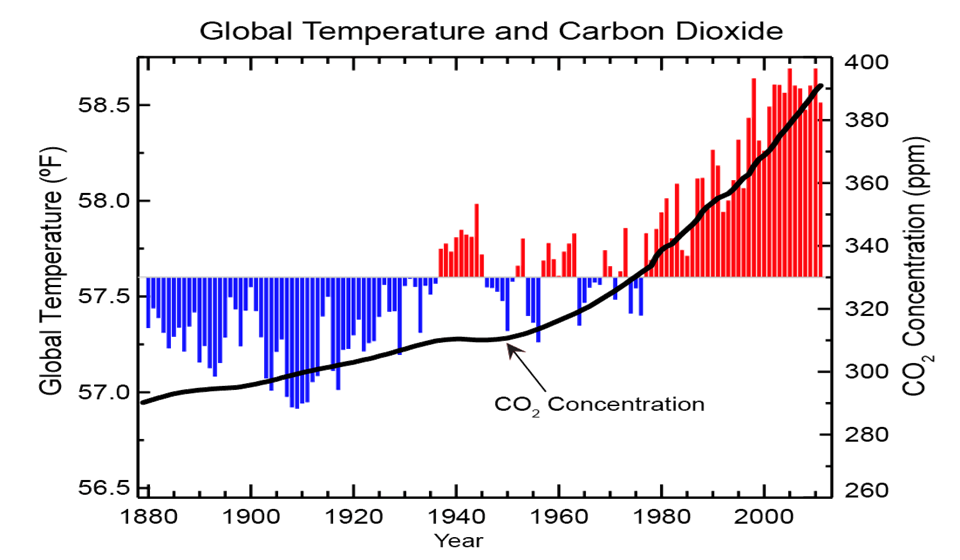 Global annual average temperature (as measured over both land and oceans; scale on left) has increased by more than 1.4°F (0.8°C) since 1880. Red bars show temperatures above the long-term average, and blue bars indicate temperatures below the long-term average. The black line shows atmospheric carbon dioxide (CO2) concentration in parts per million (ppm); scale on right. While there is a clear long-term global warming trend, some years do not show a temperature increase relative to the previous year, and some years show greater changes than others. These year-to-year fluctuations in temperature are due to natural processes, such as the effects of El Niños, La Niñas, and the eruption of large volcanoes. (Figure source: NOAA NCDC. Temperature data from NOAA NCDC 2012; CO2 data from NOAA ESRL 2012.)
MORE TO FOLLOW
Slides
Research Notes
Slides
Precision Agriculture
Source: http://cropwatch.unl.edu/ssm
Students from the Site Specific Crop Management course visit with ARDC Director Mark Schroeder about Precision Ag Technology use at that facility.
Precision Agriculture
Precision Agriculture (PA) information found throughout this site is designed for crop producers, agricultural consultants, extension educators and other agricultural professionals.
Numerous economic and environmental benefits may be realized by strategically applying PA management principles including:
Enhanced product quality
Increased agricultural profitability and sustainability
Protecting the environment
Optimized use of agricultural pesticides, fertilizers, seeds, water, energy and other crop amendments
Improving the well-being of those who depend upon Nebraska agriculture
---
SSCM Components
My Note: See Below
Satellite-Based Auto-Guidance - Satellite-based auto-guidance systems can provide significant benefits for the crop production industry. Improved equipment make it possible to use satellite-based auto guidance in diverse growing environments.

Yield Monitoring and Mapping - Yield mapping refers to the process of collecting georeferenced data on crop yield and characteristics, such as moisture content, while the crop is being harvested. Various methods, using a range of sensors, have been developed for mapping crop yields.
On-the-Go Vehicle-Based Soil Sensors - Sensors can measure a variety of soil properties. These sensors are used in conjunction with GPS to develop field maps or to control variable rate application equipment in real-time.

Site-Specific Management of Soil pH - A series of freqently asked questions (FAQs) are addressed.
Soil Sampling for Precision Agriculture - Soil sampling is an important component of a site-specific management system. Sampling principles and recommendations are discussed.
Site-Specific Nitrogen Management for Irrigated Corn - Recent research in site-specific nitrogen management and recommendations for how irrigated corn producers in Nebraska might implement this technology on their farms.
Precision Ag Resources
My Note: See Below
Precision Ag Workshops and Events
2016 Nebraska Agricultural Technology Association Conference My Note: See Below. No Slides. PDF and Word
February 3-4, 2016, Nebraska Innovation Campus, Lincoln, Nebraska
2015 Precision Ag Crop Management Diagnostic Clinic
July 14, 2015, Agricultural Research and Development Center, Mead, Nebraska
Pre-Conference Program Wednesday February 4th 2015
9:00 AM to 5:00 PM (Lunch & Breaks included)
Integrated Agronomic Management Systems Symposium
(9:00 to Noon) – CCA Credits
Encirca, Ron Sabataa, Pioneer Encirca
Field Scripts, Terry Hansen Jr., Climate Corp
ACS, Keith Byerly Central Valley Ag
On-Farm Research Network, Keith Glewen and Laura Thompson
(Lunch Program in Ballroom)
Unmanned Aerial Vehicles (1:00 to 5:00) – CCA Credits
FAA Regulations for UAS, Dr. Wayne Woldt, UNL Biosystems Engineering
UAV Applied Research, Aaron Lessig, CEO Pulse Aerospace
UAV Experiences, Mike Ritter, Slant Range
Panel Discussion (Mike Ritter, Aaron, Lessing, Brittany Bolte, Wayne Woldt)
Wednesday February

4

th

2015

Name: CCA#:

8:30 AM

Symposium Registration

9:00 AM to 5:00 PM

Integrate Agronomic Management Systems and UAV Symposium (see opposite side for speaker/topic information) My Note: See Above

5:00 PM to 6:00 PM

Conference Registration – Exhibits Open

6:00 PM to 7:00 PM

Dinner (Grand Ballroom)

7:00 PM to 9:00 PM

NIMBUS Lab and UAV technologies demo

8:00 PM to 10:00 PM

Break – View Exhibits – Networking – Roundtable Discussions

10:00 PM

Exhibits Close

Thursday February

5

th

2015

7:00 AM

Breakfast - Registration – Exhibits Open

8:00 AM

Title, Dr. Larry Gaultney, E.I du Pont de Nemours and Company (Grand Ballroom)

Ambassador Room

Executive Room

Governor Room

Islander Room

9:00 AM

The Farmer's New Cash Crop: A Way to Monetize Data

O'Banion, H. Gerlock, & R. Nuss,

Directors of Farmobile

Big data is big deal for Ag

Power of Farmer's data

Farmer's own and should make money from data

Nebraska Intelligent MoBile Unmanned Systems Lab

Dr. Carrick Detweiler, Assistant Professor, University of Nebraska- Lincoln Computer Science and Engineering Department

UAV research and supporting technologies

Hyperspectral and Thermal Imagery

Nate Taylor, Memes Associates

·

Precision Ag

James Ellingson, Assistant Professor, Director of Precision Ag

·

9:50 to

10:15 AM

Break – View Exhibits and Student Posters

10:15 AM

Advances in Spatial Soil Mapping Using Hydrogeophysics

Dr. Trenton Franz, Assistant Professor, Univ. of Nebraska-Lincoln School of Natural Resources

Spatial soil moisture mapping using cosmic-ray neutron probe

In-season soil moisture mapping of mgt zones

Optimal placement & cross calibration of in-situ soil moisture sensor

UNL Precision Ag Research

Richard Ferguson or Joe Luck

·

Clear Profits from the Cloud and in the Field

Jerry Mulliken, Consulting for JM Crop Imaging

Drones have

Mapping algorithms for in- season decisions

Where does thermal IR fit

Title (Online)

Dr. Jack Paris, Paris Geospatial, LLC

·
11:05 AM

Automated Soil Analytical Tools: More important now than ever

Matt Rasmussen, Co-Owner of Soil Analytics, LLC

Future of soil analytical tools

Precision agronomy long-term benefit

Density of soil sampling

The Climate Corporation Platform

Terry Hansen Jr., Regional Mngr, The Climate Corporation

Climate Basics and Pro

Precision Planting

Field Scripts

4R

Peyton Harper

·

Title (Online)

Allan Baucum, A.L. Buacaum Inc.

·

12:00 PM

Lunch

12:45 PM

NeATA business meeting – Steve, NEATA President

1:00 PM

A Century of Extension – Dr. Chuck Hibberd, Dean and Director of Nebraska Extension

1:30 PM

Nature Conservancy Update – Jacob Fritton, Nature Conservancy Performance Irrigation Coordinator

2:05 to

2:30 PM

Break – View Exhibits and Student Posters

2:30 PM

Optical Yield Sensor

Time Heins, Raven Industries Director of Product Management

Applied GIS at a Nebraska Coop

Kevin Royal, CPI-Precision Ag Manager

Precision Ag Trends

Geopublishing internal spatial data

Moving EC data from the field

DuPont™ PrecisionPac™ Services- Customized Crop Protection for Every Field

Dr. Larry Gaultney, E.I du Pont de Nemours and Company

Multiple MOAs

Accurate use rates & product tracking

Got Broadband?

Dennis Kahl, Nebraska Extension Educator

Broadband plan

Ag broadband applications

Importance of keeping up with broadband

3:30 PM

Trends for enabling data-driven crop production management – Dr. John Fulton, Associate Professor, The Ohio State University My Note: Have a slide of this program in Week 2

4:20 PM

Conference Wrap-up

4:30 PM

Have a Safe Trip Home!
SSCM Components
Precision Ag Resources
NEXT